Why Storytelling Works So Well!
"Those who tell the stories rule the world."
-Hopi American Indian proverb
Storytelling works because like art it is a powerful, primal form of communication. Humans use it today just as they have for ages. Personal storytelling is your story.
You are so much more than you know or give yourself credit. When you get in touch with the parts of your story you take for granted, it helps you feel relaxed and natural in your communications and connections.
Many people, no matter who they are, or what business they're in, find it a challenge to form a connection with their audience of intended buyers and influencers. They struggle to engage people and get them to listen and take time to know them.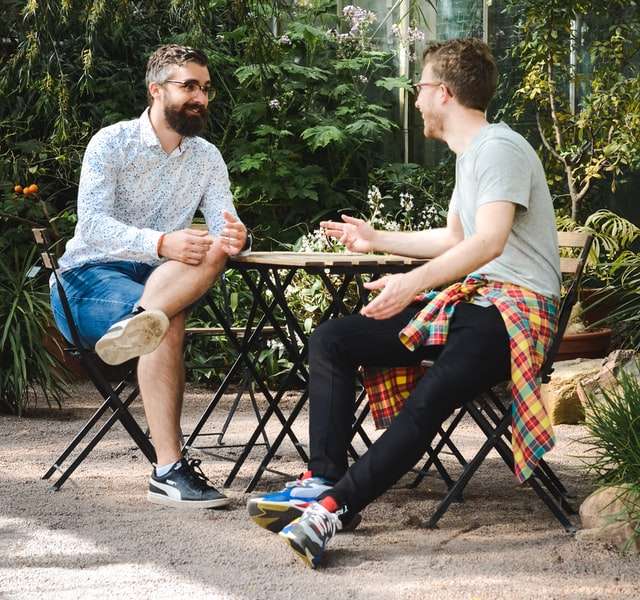 You Can Unlock the Power of Storytelling
Their struggles are not because they can't or wouldn't connect. It's that things are harder because they haven't unlocked the power of storytelling. We see stories with our eyes and hear them with our ears. It's our first encounter with information.
Your art is a visual connection to others. Your stories add connections on more levels. When potential friends, benefactors, or buyers hear or read your story, in your words, your connection value iwith them goes next level.
Storytelling doesn't require spellbinding tales. Human interest grows in truth. Honest communication makes you stronger not weaker. People know when your expression is genuine. Those worth knowing will relax and respond in kind to real stories.
Here's How Storytelling Helps
Your story and your connection to your art are important. Imagine a buyer who loves your work, has bought a piece and knows your story. Now when she tells someone about it, she sprinkles in detail from your story. Think of it as emotional connective tissue. Stories enhance the experiential value of everything, especially art.

Just think of the pride a new buyer has in mentioning that Georgia O'Keefe inspires this artist. And how the artist went to great lengths to follow in O'Keefe's footsteps. She attributes her guiding light in creating artwork to this magnificent quote:

"It is only by deduction, by elimination, by emphasis, that we get at the real meaning of things." Georgia O'Keeffe
The new owner proudly telling an appreciative viewer that when you know details from the artist, you can see the O'Keefe influence in her work. And that's why they had to buy it. And now that viewer is educated and informed about the artist.
As an artist, your stories create a conversation for you when you aren't there.- Barney Davey
It's Phenomenal How Word-of-Mouth Works!
Word-of-mouth happens because you enable it with storytelling. It lights the path from an avid collector to an evangelist. Storytelling cultivates art buyers who exert serious influence in your favor. They're happy to have evolved in the relationship with you, starting with stories of your art and you.
Storytelling Opens Doors.
Marketing is no longer about the stuff that you make, but about the stories you tell. --Seth Godin



What Makes Storytelling Powerful Is Anyone Can Do It and People Respond and Connect to Genuine Human Interest!

People who tell compelling stories about themselves are able to capture their audience's attention from the first moments – whether it's in a one-on-one meeting or a live webinar or a presentation. And once they've established that emotional connection, it's far easier to persuade an audience to take action later on.
You can learn how to captivate, engage and create bonds with your easily learned personal storytelling skills.
Storytelling Is a Lifetime Skill
It's fair to say it is sometimes difficult to identify the right stories to tell. And it can take a little work to perfect your skills so when you tell your stories you get the response you want. Fortunately, with a little help, anyone can uncover and create compelling personal stories that get better with each telling. But, the payoff is a lifetime of improving results and relationships.
You can learn to use the The Power of Storytelling training to get maximum mileage from your story... and you have a story. One that is far more intriguing than you imagine.
By the time you're done with the course, you will identify and tell your most relevant and high-impact personal stories. The wisdom and insights you gain will help you build your reputation and start getting you fantastic results… you'll be thrilled to feel your self-confidence grow and see your business take off!
There are five thorough, easy-to-follow modules in the course:
Why We Love Stories: You'll start by examining the benefits of using personal stories in business, so you can conceptualize and fully appreciate the profitable impact stories can make on your relationships with art buying patrons, prospects, and customers
The Different Types of Personal Stories: You'll dive into the most popular personal story types, so you can choose the most important ones that will impact your business
Writing Your Story: You'll love the story prompts and writing tips. You will use them to draft personal stories to begin using them to tell others right away, no matter what situation you're faced with
Tell Your Story: You'll explore different methods for practicing and telling your stories, including how to tailor them to different audiences. That way you're prepared to tell at least one story by the time you finish the course.
How to Start Using Your Stories: In this final module, you'll recap the key points of the course and be guided through useful action planning. You'll wrap up knowing what you need to do next to start telling a variety of personal stories in your business.

Successful Art Sales Are All About Making Relationships

The knowledge, wisdom and experience you gain from this course will help boost your confidence that you can relate to anyone. Knowing you have learned these unique skills of personal storytelling will allow you to progress your relationships with potential new buyers and repeat customers with ease.

Selling to buyers directly is the key to your long-term success. Building relationships with buyers is the glue to make that happen. This course will put you on the fast track towards connecting with your ideal buyers and selling your art to them.
Would You Like to Hear My Story?
Scroll down in the curriculum below. Click on the "Preview" link as shown below: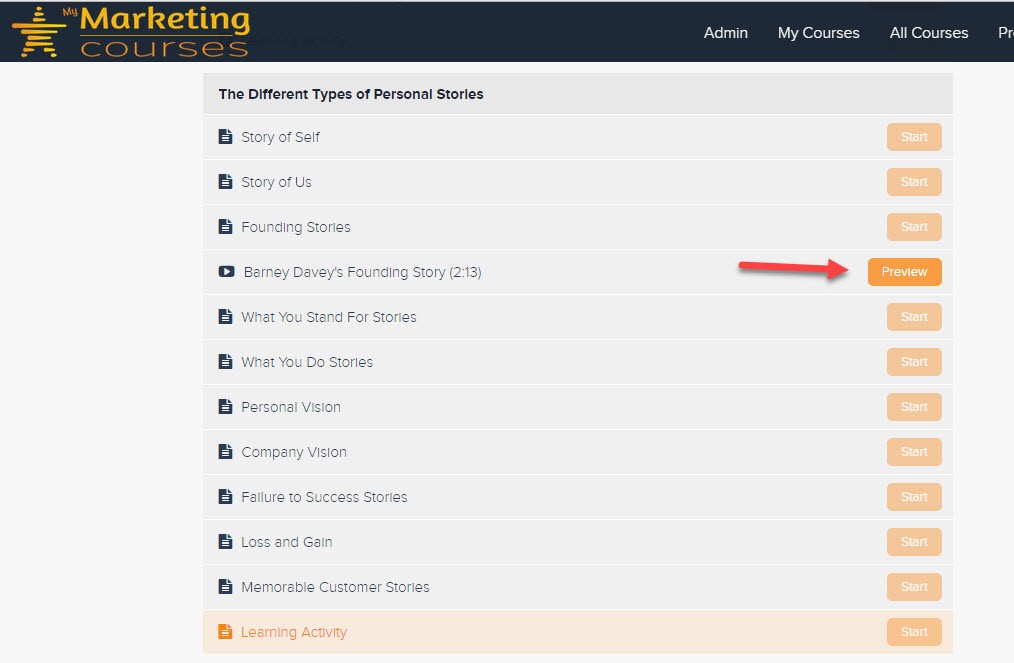 Make Sure You Checkout the Entire Curriculum
Click the down arrow to expand the curriculum to see all the classes and training in this course.

Course Curriculum
Overview of the Power of Personal Storytelling
Available in days
days after you enroll
Why We Love Stories
Available in days
days after you enroll
Your Instructor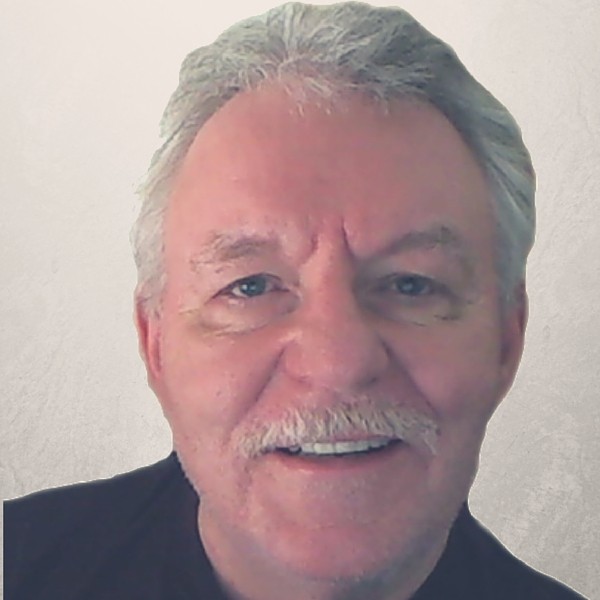 Hi,I'm Barney Davey. If you are an artist, photographer, or work as an entrepreneur creative field, I can serve your efforts to create a prosperous career.
I launched a marketing and advertising business in my 20s and sold it to take a position as a senior account executive at a top trade magazine publishing and trade show exhibition company.
We served a variety of small business markets, including:
Artists, Galleries, Publishers & Picture Framing Retailers
Property & Casualty Insurance Agents
Life & Health Insurance Agents
Private Club Management & Operations
Hospitality & Travel
Interior Design & Decorative Accessories
The exposure into how small businesses succeeded in such a wide range of industries was a fantastic learning experience. I use the wisdom and insights I gained to help artists and other small business entrepreneurs create profitable marketing systems.
Since 1988, thousands of artists have sought my advice for new ways to boost their careers. They trust my books, blog posts, workshops, online training, and consulting to help them get ahead.
Get 30 years of experience.
I began advising artists in 1988 when I joined Decor magazine and the Decor Expo trade shows as a marketing executive. The shows and magazine were most influential in the retail art business in their time.
Before its demise due to the internet, for 135 years, Decor was in the business of helping artists, galleries, and picture framers. At its peak, the Decor Expo Atlanta Show was ranked in the top 100 among more than 10,000 annual tradeshows produced in the U.S.
As a result of my attendance at more than 200 art tradeshows, I got to know many of the industry's most successful artists. Traveling to shows gave me a unique chance to observe their best marketing practices.
Experience pays off for my artist followers and me.
Now, I share my insights and experiences with thousands of artists. They use my knowledge and marketing savvy to find collectors, sell more art and operate a profitable business.
I am the author of six bestselling books on the business of art:
Straight Advice: How to Market Art Online
Guerrilla Marketing for Artists: How 100 Collectors Can Bulletproof Your Career
How to Sell Art to Interior Designers
The Zen of Selling Art
How to Profit from the Art Print Market
How to Price Digital Fine Art Prints


Five books in top ten shows my books' impact and staying power.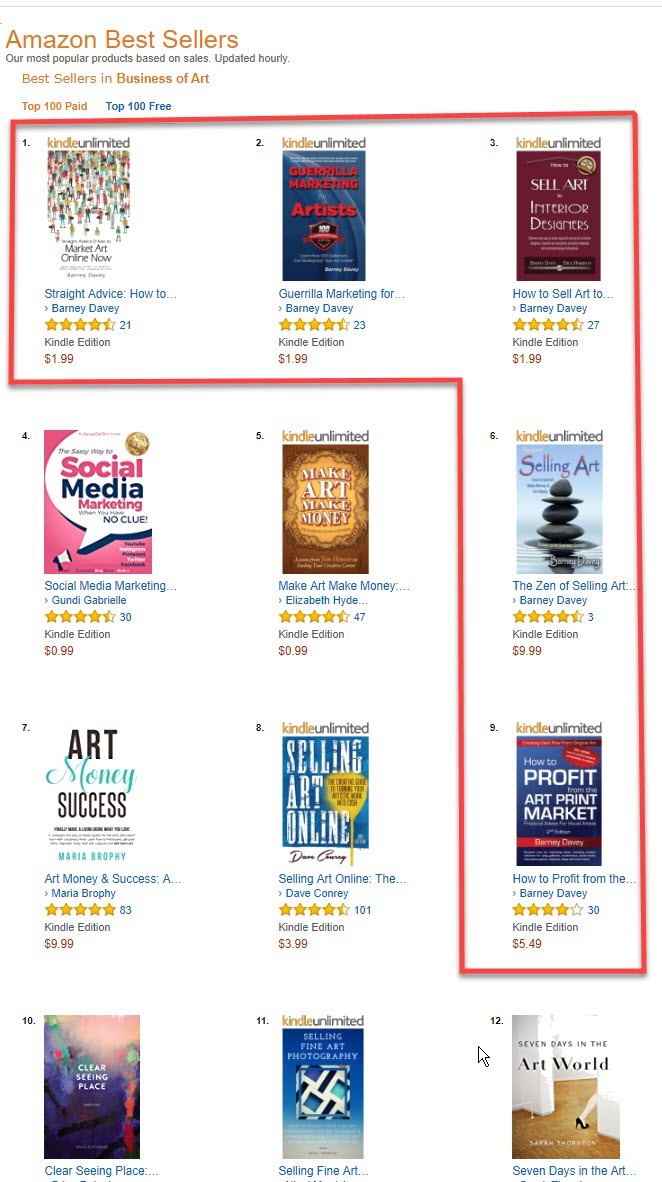 These books have an ongoing impact in the marketplace. Here is a screenshot from the Amazon Kindle "Business of Art" best sellers list. It shows five of my books listed in the top 10 all at the same time.
That is an extremely rare feat I'm proud to share with you. I trust seeing these results gives you confidence in my information. Since several of the books are years old, I believe it demonstrates the evergreen quality of the practical advice I provide for artists.
My articles have been published in The Artist's Magazine, Art World News, Art Business News, Professional Artist, Bottom Line Personal, and Picture Framing Magazine. My How to Profit from the Art Print Market book was featured in the North Light Book Club. It is the book club for F+W Media, the parent company of The Artist's Magazine.

---
I have been featured in, written for or worked with these industry leading media companies, and more.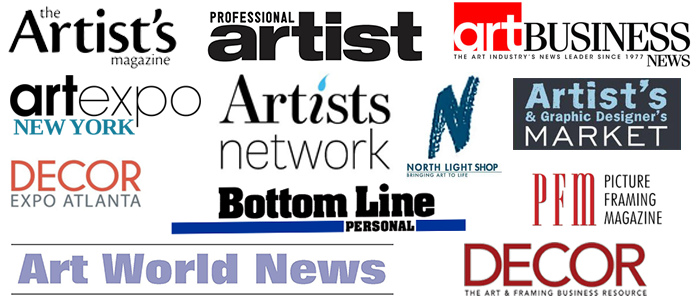 Artists Hone Their Art Marketing Skills with My Help.

Besides my books and blog, I have produced and delivered hundreds of live workshops and online webinars for artists on art marketing.
You can get a clear idea of the marketing insights and industry knowledge I share by visiting my Art Marketing News blog. You'll find more than 600 art business and marketing posts. Among art business blogs, it is ranked #1 by Art Business News.
I was honored to be interviewed by Bottom Line Personal. With a a 750,000 circulation it is one of the largest peronal finance and lifestyle publications on the planet.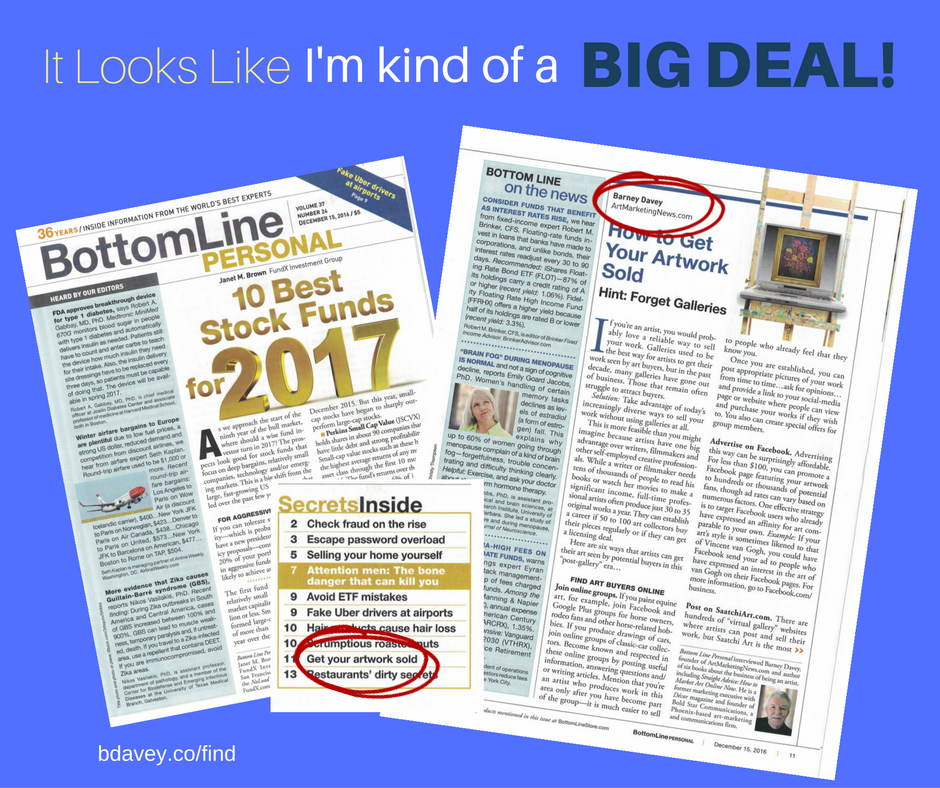 I'm telling you these things because I want you to have confidence and enthusiasm that my advice can help steer you to a better career. I've devoted most of my business activities and all my passion towards helping artists for nearly 30 years.
I know the work I'm doing to help artists now is the best I've done. It's a happy marriage of passion, productivity, and purpose. My plans to offer more courses and relevant information for artists are just getting started and getting better all the time.
Frequently Asked Questions
When does the course start and finish?
The course starts now and never ends! It is a completely self-paced online course - you decide when you start and when you finish.
How long do I have access to the course?
How does lifetime access sound? After enrolling, you have unlimited access to this course for as long as you like - across any and all devices you own.
What if I am unhappy with the course?
We would never want you to be unhappy! If you are unsatisfied with your purchase, contact us in the first 30 days and we will give you a full refund.