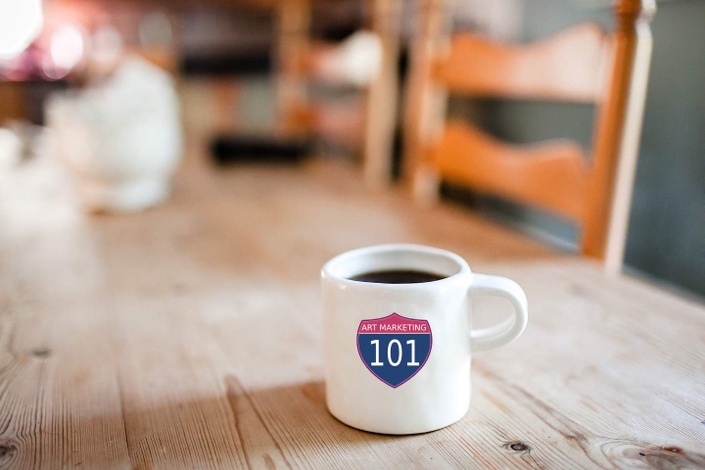 Art Marketing 101
If you are looking to discover the best ways how to build a prosperous art business, please check this out.
Watch Promo
Art Marketing 101


If you are interested in discovering new ways to run your business and sell your art I believe you will find this course helpful and worthy of your consideration and participation.
Hi, I'm Barney Davey, the creator of this course and website. I'm honored you are here to learn more.
Art Matters – and So Do You!
Whether it stimulates strong reactions, brings forth a smile, inspires action, or touches someone deeply, your art matters. Your artistic voice and vision are needed now, and maybe more than ever,
Your voice can't be heard until it gets to market and owned by fans, patrons, and others. I've known too many artists who struggle with marketing and selling their art. They motivated me to design this course. You can get expert help here to make your art business thrive.
What Is Holding You Back?
Do you worry about slow sales, or feel like you are not keeping up with how to get your art to market in the digital age? Sometimes it's fear of the unknown, or fear of success. Whatever is your answer, you should know many other artists share similar concerns.
There Is a Light and a Path Forward
There is way more than hope when you see what's going on. That's because more and more artists flourish as they realize they can overcome what once seemed impossible. Knowing that making sales is a game changer, and a major morale booster.
Pro Tip for All Artists
Don't wait! Establishing efficient sales habits soon is highly advisable. While those healthy habits lead to quick results, they also remain in your service as a driving force in your business forever. Plus, steady cash flow boosts optimism, eases stress and enhances everything. It is why there is a primary focus on selling art in Art Marketing 101.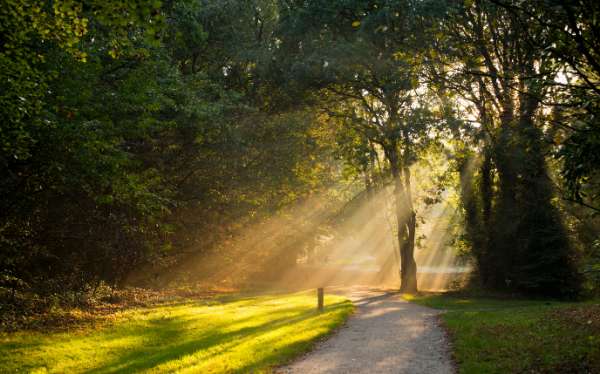 Successful independent artists have unlocked the secrets to working around the antiquated distribution systems run by old-school gatekeepers. Smart artists are employing efficient ways to get their work to market today. They succeed without becoming obligated to work with galleries and other third-party distributors whose influence and control are slipping away.
The Best of Both Worlds Is Possible
Artists who develop their a following and sell directly to patrons don't necessarily stop working with galleries, and so forth. If anything, they are more desirable to them.
However, since they are now a secondary income stream, the fate of artists' careers is no longer in the hands of third-parties who naturally put their interests before those of their artists.
The more artists achieve self-reliance, the more they get to choose their best partners and vendors because it is a good fit and not out of necessity.
Building your clientele earns you bigger margins, more income and puts you in control, Developing direct patronage is more than worth doing. It is essential to your long-term profitability.
Now is the Time for Artists to Shine
Today, enterprising artist-entrepreneurs take advantage of evolving market conditions and use effective marketing strategies to seize control of their destiny and the distribution of their art. They take pride and comfort knowing their patrons, with whom they have personal relationships, value their art, and hear their voices.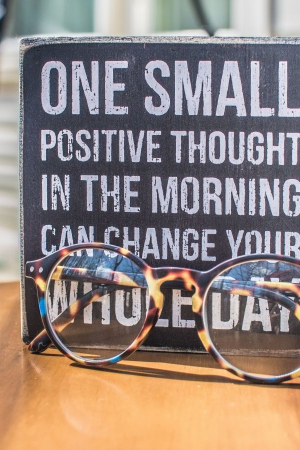 Your Thoughts and Perceptions Are Your Reality
If you think selling to patrons directly and creating an independent business model is not possible, or a big challenge, you're not alone.
Lots of artists find themselves with this mindset because it's true until they prove themselves wrong. You don't have to accept the status quo.
There's never been a better time to flip the script and choose a new reality and a future with better possibilities.
The beauty and power of your humanness is you can change your mind and your outlook as you wish.
Three Steps to Bringing Positive Changes
The first step in making a change is realizing other better options exist.
The second is deciding to do something about it.
The third step is taking guided action toward specific, meaningful, and doable goals.
I'm here with this course and private Facebook group to be your guide and to light the path to a prosperous art business for you.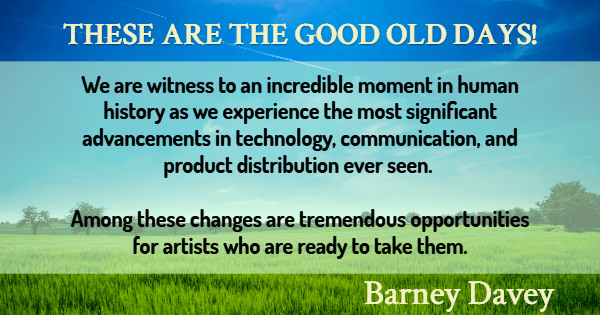 The Power Is There Waiting for You to Grab It!
Magic happens when artists realize they have free will to choose their thoughts and actions. It's their springboard to making positive changes in their lives and businesses.
My intention is to inform, inspire, and encourage artists to lay a solid foundation and build a sustainable, rewarding career on it.
In Art Marketing 101, we focus on helping you learn how to:
Use best practices to make art that sells
Price your art competitively (Free bonus course)
Make your easiest and quickest sales first
Sell your art without a list or marketing software
Launch an ecommerce enabled website
Identify and connect with your ideal buyer prospects
Sell art at shows
These topics are critical to building a profitable art business. They lead to sales without the time and expense of building email lists and social media followings.
You will find success with Art Marketing 101 sets the stage to encourage and embolden you to add more complex and advanced marketing techniques as found in Art Marketing 201 and 301. They are designed to grow your career even further and faster.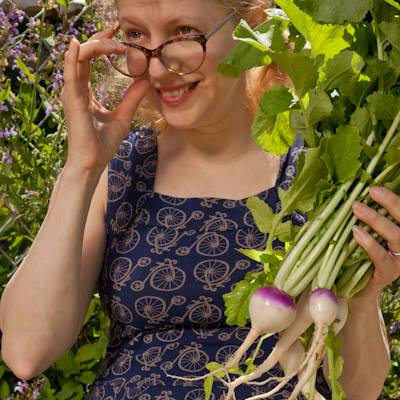 "Hey Barney Davey, I wanted to share with you that I just made my highest priced direct sale ever to an art collector by applying all I have learned from your teachings. Thank you for helping me learn how to profitably represent myself as an artist This is amazing!" – Ivana George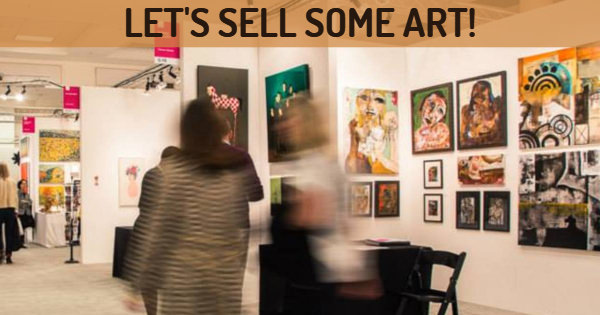 Why Making Easy Sales Comes First
A lot goes into building a smooth-running art marketing system. Some parts of the system are multifaceted and take time to get going and produce results. You will learn how to use those more complex parts in the 201 and 301 levels.
Because making money eases burdens all around is why we go there first with Art Marketing 101.
The Benefits You Get from the 101 Curriculum
The 101 course sections address immediate needs. They are designed to work together so you accomplish your primary art marketing tasks profitably.
"The 101 training gives you the perfect blend of skills, knowledge, and techniques to make quick sales and get new customers—without having a client list or fancy marketing tools."
– Barney Davey

We like, use, and recommend those fancy tools. However, because they take time to get rolling, we will get to them in later levels.
We want to get you started on making sales first. There is time later on to tackle more complex tools and techniques.

No Tools Necessary
You don't need a big, or for that matter, any size email list or marketing automation software to begin selling at shows and through your warm, local, natural, networked connections.
In Art Marketing 101, we're focused on sales. That's because we know getting sales boosts confidence, fattens wallets, and spreads optimism.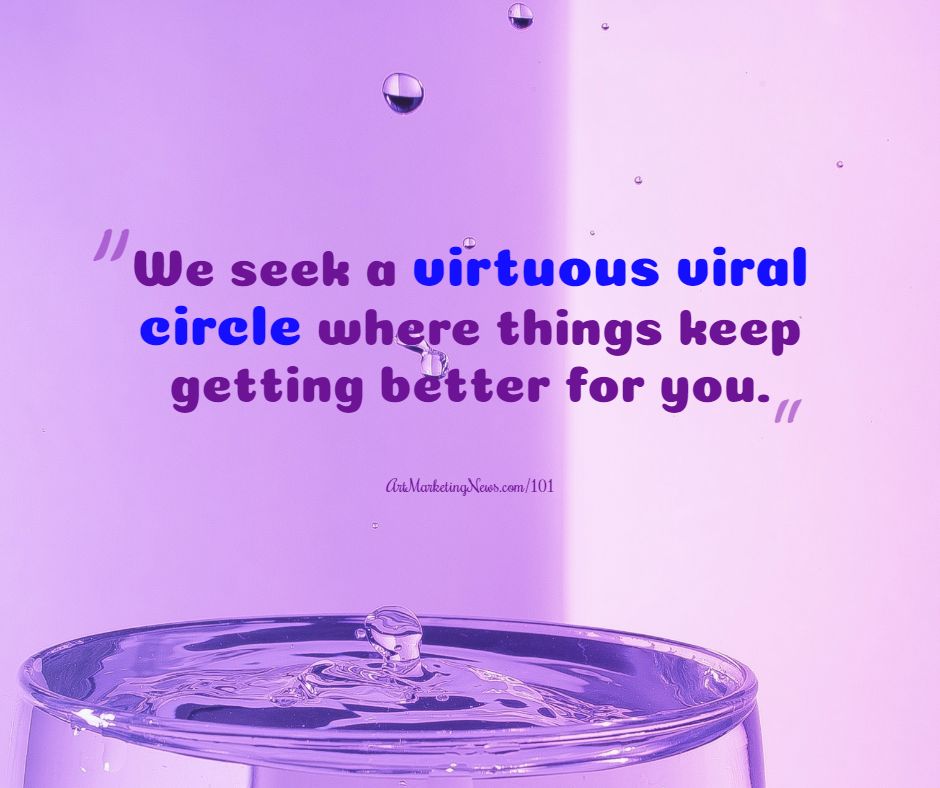 We seek a virtuous viral circle where things keep getting better for you.
How to Turn a Shoestring into a Pipeline!
I realize some readers might be on a shoestring. With sympathy from personal experience, I understand the problem and feel for you. The best way to fix being on a shoestring is to start making sales. You know there is nothing like cash flow to free things up in your life and your business.
Steady sales are the lifeline that turns a shoestring into a pipeline.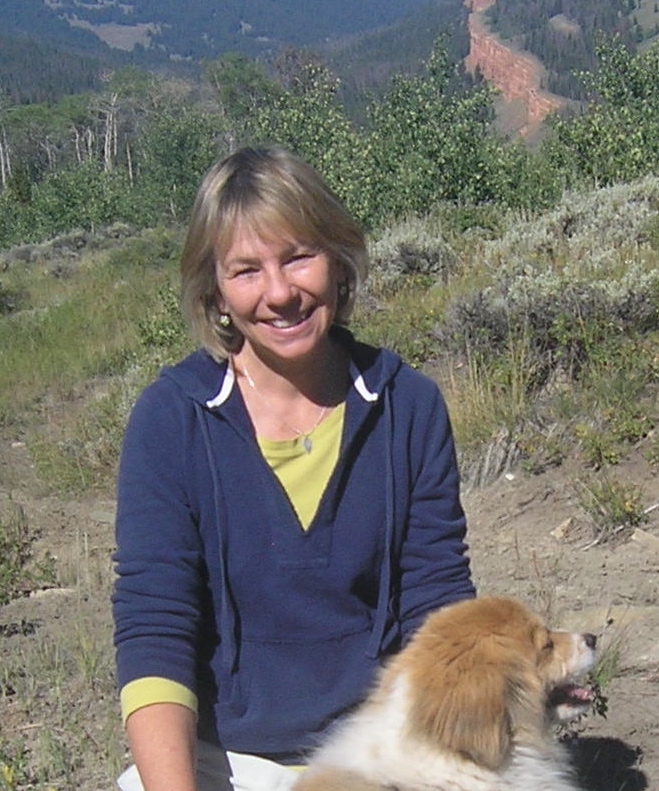 Though I have been a practicing professional artist all of my life, I have the most pleasurable opportunity now to apply all of my efforts to being a full time artist. Though I have dealt with galleries, newspaper reporters, graphic design, and many necessary marketing endeavors for the past several decades on my own, I still recognized that Barney Davey's "Art Marketing Course" would add very important skills and knowledge to my repertoire. The course has exceeded my expectations - it was (and continues to be) money well spent. The fact that one can revisit the topics again and again is very helpful, and the Facebook group is a wonderful ongoing helpful resource as well.
- Kay Stratman, Contemporary Artist
How to Price Art Bonus Course
The How to Price Art course is separate and will be manually added to your account after your enroll in Art Marketing 101. You have lifetime access to the course. Consider it part of the curriculum you see below.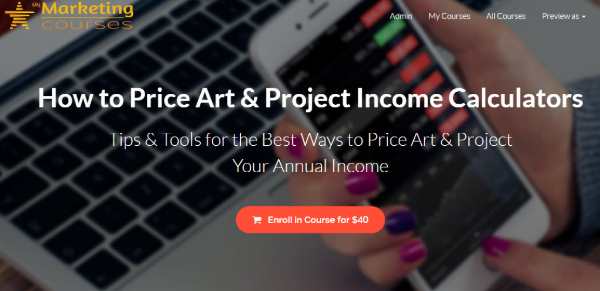 Course Curriculum
Art Marketing 101
Available in days
days after you enroll
Click the image below to download the
Fine Art Career Marketing Guide Ebook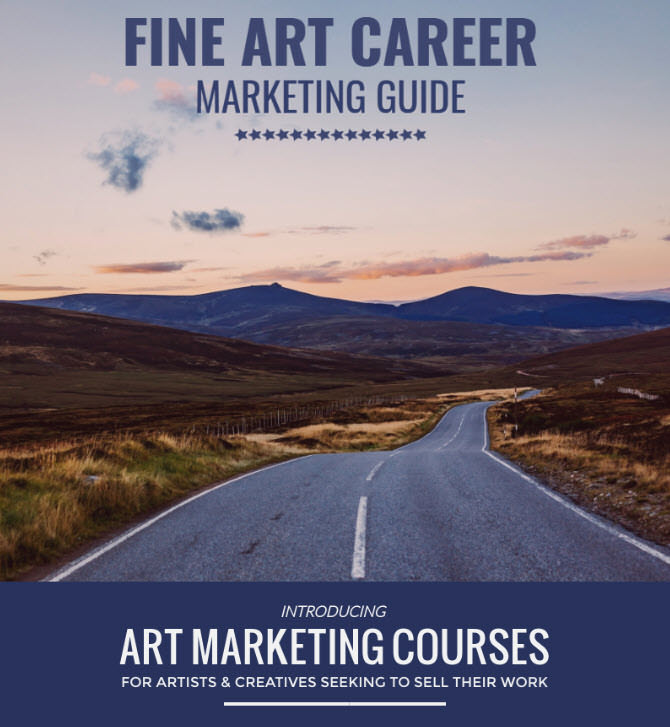 Professional Art Career Development Tools, Training and Advice

Art Marketing 101 is the first in a series designed to give you the tools and training you need do grow awareness and sell your art — and much more.
101 - Build - Start earning income.now

- improve art sales skills, launch marketing systems

201 - Multiply - Get organic and paid traffic patterns working

- automate email and content marketing

301 - Expand - Generate repeat sales and steady referrals - integrate business & marketing systems

The Art Marketing 201, and 301 courses are in final development and will be released soon. When you join now you are guaranteed low charter rates and a bundle offer on both the 201 and 301 courses
Art Marketing 1-ON-1 is a private professional artist development coaching service.
Learn more at https://artmarketingnews.com/marketing-services/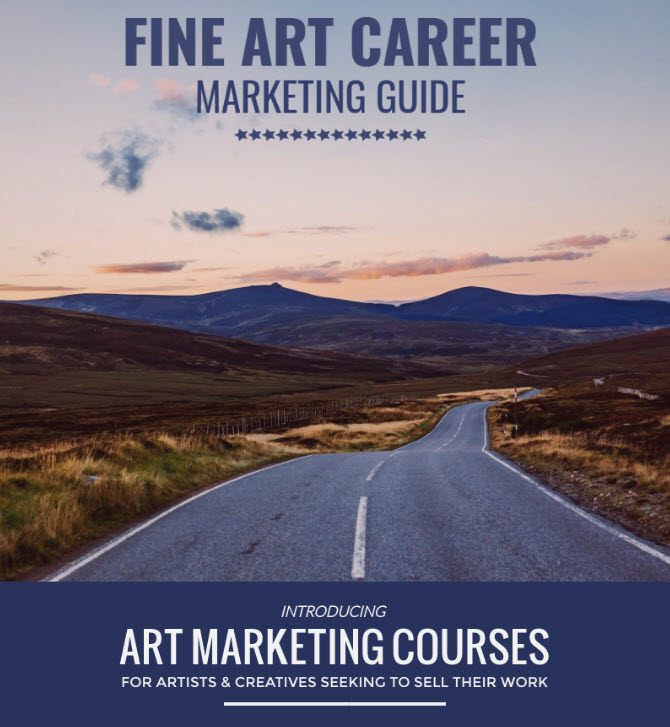 What to Expect

Upon successful completion of the three courses, you will have a customized art marketing system. You will be set to generate steady, predictable sales. You will have all the fundamental building blocks needed for a sustainable art marketing system.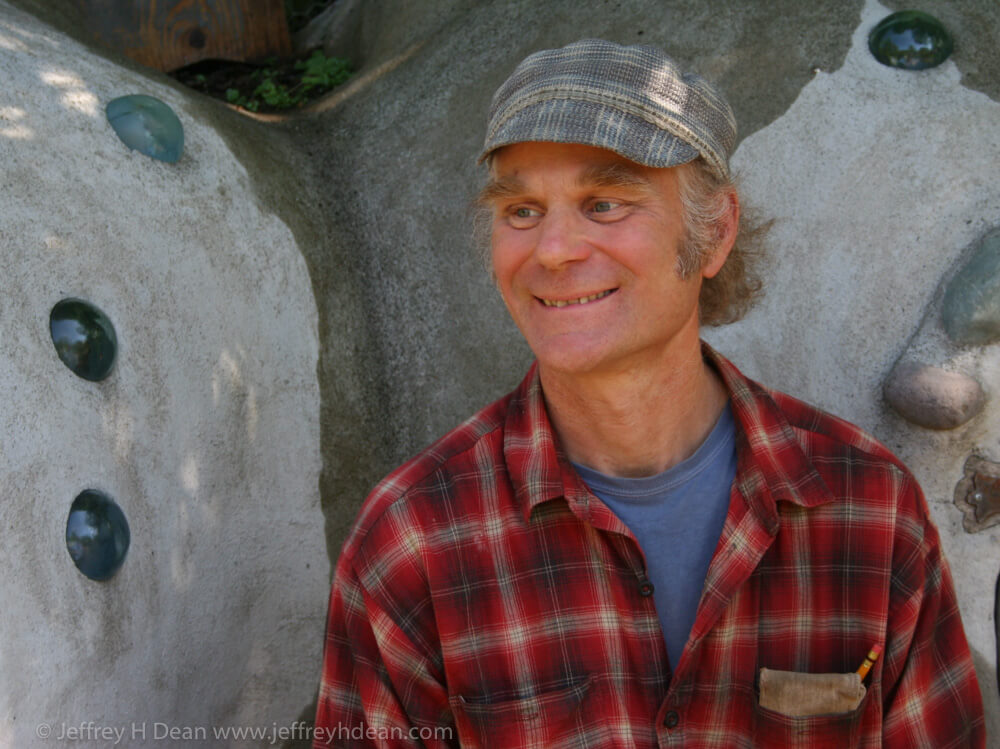 "Barney Davey's Art Marketing Mastery course offers a wealth of practical, down to earth, no-nonsense knowledge about the nuts and bolts of marketing your art. This course can serve as the missing link between you, the schooled or self taught artist, and the elusive world of making a good living from your work."
- Jeffrey Dean, Sculptor
Your Added Value Bonuses
These bonuses are called "Be the Boss" because the goal of this training is to make you the boss of you and your business now and forever. The best way to be the boss as an artist is to control your distribution.
Somebody has to sell your art if you are going to succeed. When you or your employees are responsible for most of the sales of your artwork, you are in control. That is the most powerful way for you to build lasting, satisfying success.
You get more than $600 in bonuses you will actually use!
How to Price Art - separate standalone course with calculators, formulas, strategies and more to help you optimize your prices ($40 value)
Art Business Mastery - separate standalone course with basic business resources every artist needs ($99 value)
Private Facebook group - lifetime access to Barney Davey and hundreds of artists to help you ($500 value)
Zen of Selling Art ebook - full of tips you can use to help you sell your art more effectively ($10 Value)
Guerrilla Marketing for Artists ebook - a master plan for building a successful art career ($10 value)
Guaranteed Low Charter Rates - pay low charter rates for Art Marketing 201, 301, and future courses in this series
These bonuses are specific to help you build an ongoing art business. They are included to supplement your training and maximize your results.

No Risk Guarantee You Can't Lose!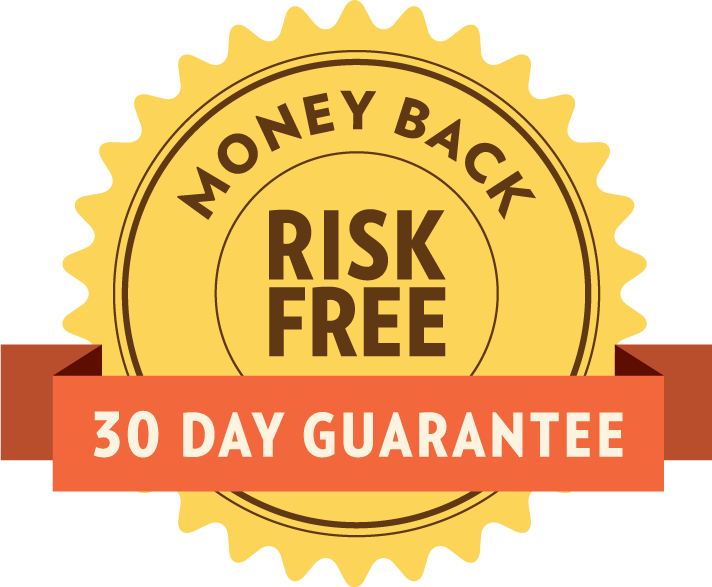 Let's keep it simple. Your purchase comes with a 30-day 100% satisfaction guarantee.
If for any reason you change your mind and don't want to keep the course, you can request a refund inside of the first 30 days after you join. I will promptly and cheerfully, (Okay, I'll probably have my sad-to-lose-you face on.), refund your full payment. No questions asked.
I trust you can see that I'm an open book who likes to teach at every opportunity. My mom was a school teacher, and I know teaching rubbed off on me. She also was an excellent artist. Her work hung in the St. Louis Art Museum for a spell. Being a widow with six kids to raise ended any chance she had for an art career. Mom gave me a love of art. In some ways, every time I help an artist I'm paying homage to her.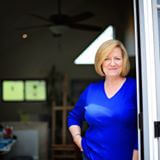 "I can highly recommend Barney's training to anyone who is interested in moving your art business forward. You will love the Facebook group with talented, supportive, fellow artists who share their experiences and bits of wisdom"
- Jana Kappeler, Abstract artist
Your Instructor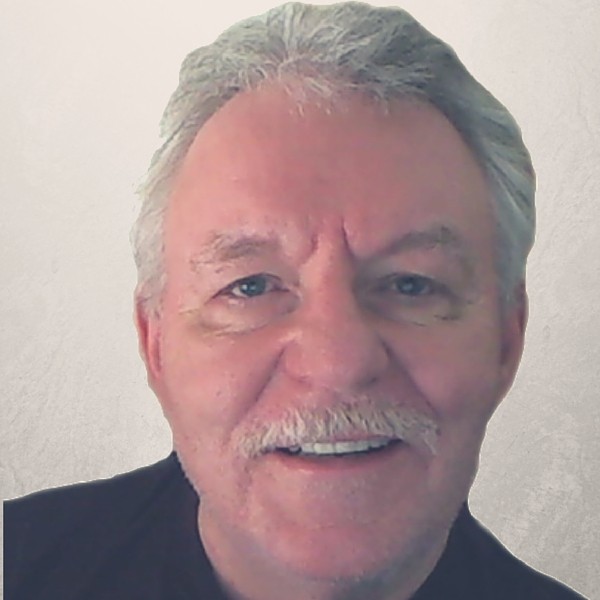 Hi,I'm Barney Davey. If you are an artist, photographer, or work as an entrepreneur creative field, I can serve your efforts to create a prosperous career.
I launched a marketing and advertising business in my 20s and sold it to take a position as a senior account executive at a top trade magazine publishing and trade show exhibition company.
We served a variety of small business markets, including:
Artists, Galleries, Publishers & Picture Framing Retailers
Property & Casualty Insurance Agents
Life & Health Insurance Agents
Private Club Management & Operations
Hospitality & Travel
Interior Design & Decorative Accessories
The exposure into how small businesses succeeded in such a wide range of industries was a fantastic learning experience. I use the wisdom and insights I gained to help artists and other small business entrepreneurs create profitable marketing systems.
Since 1988, thousands of artists have sought my advice for new ways to boost their careers. They trust my books, blog posts, workshops, online training, and consulting to help them get ahead.
Get 30 years of experience.
I began advising artists in 1988 when I joined Decor magazine and the Decor Expo trade shows as a marketing executive. The shows and magazine were most influential in the retail art business in their time.
Before its demise due to the internet, for 135 years, Decor was in the business of helping artists, galleries, and picture framers. At its peak, the Decor Expo Atlanta Show was ranked in the top 100 among more than 10,000 annual tradeshows produced in the U.S.
As a result of my attendance at more than 200 art tradeshows, I got to know many of the industry's most successful artists. Traveling to shows gave me a unique chance to observe their best marketing practices.
Experience pays off for my artist followers and me.
Now, I share my insights and experiences with thousands of artists. They use my knowledge and marketing savvy to find collectors, sell more art and operate a profitable business.
I am the author of six bestselling books on the business of art:
Straight Advice: How to Market Art Online
Guerrilla Marketing for Artists: How 100 Collectors Can Bulletproof Your Career
How to Sell Art to Interior Designers
The Zen of Selling Art
How to Profit from the Art Print Market
How to Price Digital Fine Art Prints


Five books in top ten shows my books' impact and staying power.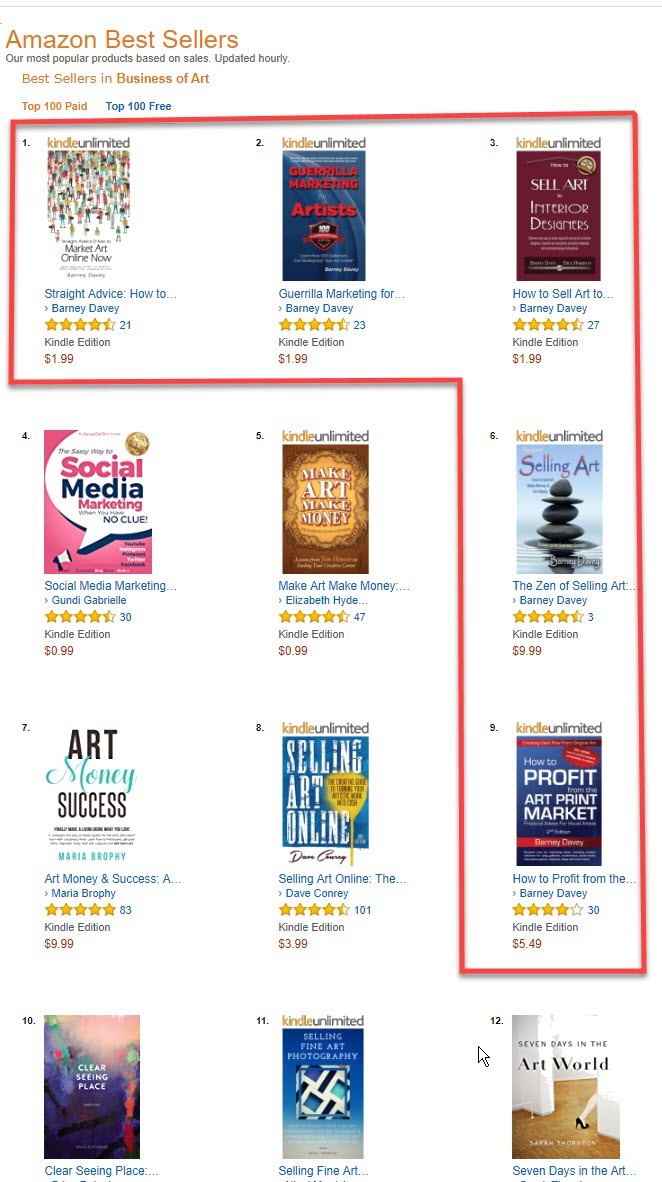 These books have an ongoing impact in the marketplace. Here is a screenshot from the Amazon Kindle "Business of Art" best sellers list. It shows five of my books listed in the top 10 all at the same time.
That is an extremely rare feat I'm proud to share with you. I trust seeing these results gives you confidence in my information. Since several of the books are years old, I believe it demonstrates the evergreen quality of the practical advice I provide for artists.
My articles have been published in The Artist's Magazine, Art World News, Art Business News, Professional Artist, Bottom Line Personal, and Picture Framing Magazine. My How to Profit from the Art Print Market book was featured in the North Light Book Club. It is the book club for F+W Media, the parent company of The Artist's Magazine.

---
I have been featured in, written for or worked with these industry leading media companies, and more.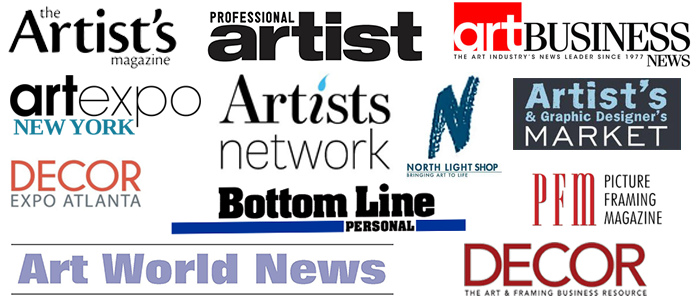 Artists Hone Their Art Marketing Skills with My Help.

Besides my books and blog, I have produced and delivered hundreds of live workshops and online webinars for artists on art marketing.
You can get a clear idea of the marketing insights and industry knowledge I share by visiting my Art Marketing News blog. You'll find more than 600 art business and marketing posts. Among art business blogs, it is ranked #1 by Art Business News.
I was honored to be interviewed by Bottom Line Personal. With a a 750,000 circulation it is one of the largest peronal finance and lifestyle publications on the planet.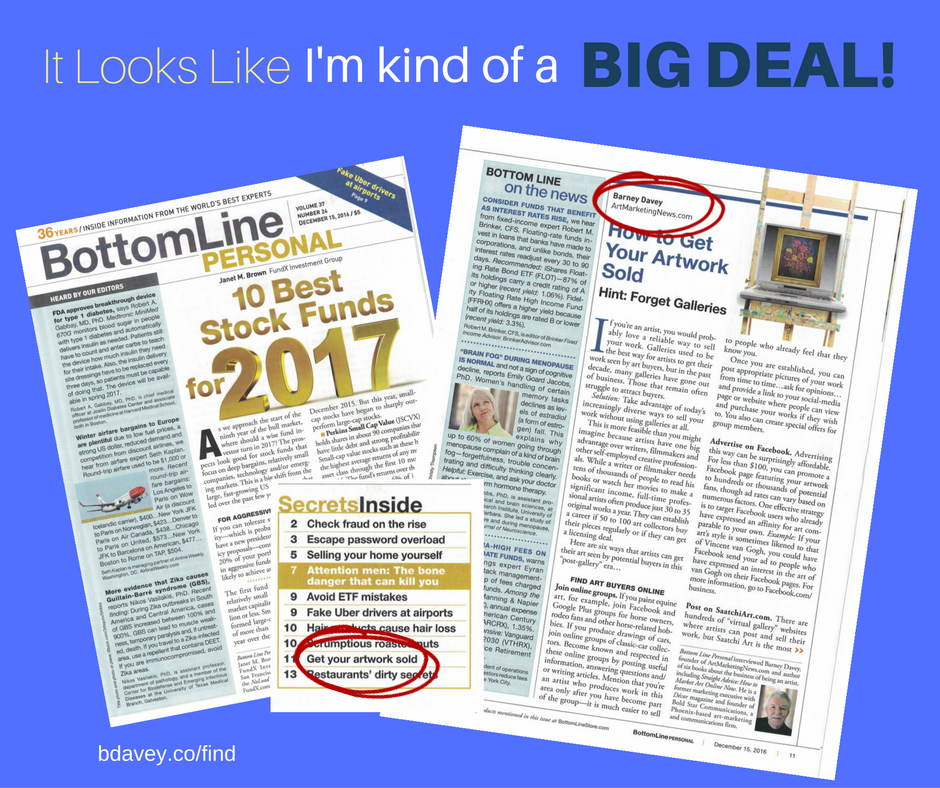 I'm telling you these things because I want you to have confidence and enthusiasm that my advice can help steer you to a better career. I've devoted most of my business activities and all my passion towards helping artists for nearly 30 years.
I know the work I'm doing to help artists now is the best I've done. It's a happy marriage of passion, productivity, and purpose. My plans to offer more courses and relevant information for artists are just getting started and getting better all the time.
Frequently Asked Questions
When does the course start and finish?
The course starts now. There are 12 lessons. You get a new lesson every other week to give you adequate time to learn and take action. That means you can finish in 24 weeks or about six months. When you submit your lesson plan activity work for your final lesson you will have an option to stay in the program at a very low monthly maintenance fee. It will give you continued access to the private Facebook group, and all the course materials.
How long do I have access to the course?
After enrolling, you have unlimited access to this course for as long as maintain membership. See the question above for more details.
How Do I Join the Facebook Group?
You will receive an invite to join the group. If you don't receive it, you can submit a request to join here: https://www.facebook.com/groups/artmarketingmasters/ Contact us if you have any problems.
What if I am unhappy with the course?
We would never want you to be unhappy! If you are unsatisfied with your purchase, contact us in the first 30 days and we will give you a full refund. After 30 days, you can cancel at any time for any reason. You will keep access to any remaining available time on your current payment.