What Email Service Provider Should I Use?
What Email Service Provider Should I Use?
Why Marketing Automation Drives the Answer
For many, if not most, students taking this course, marketing automation is a new topic. And, a foreign one at that. But not to worry we'll get into it in a way they will help you understand what it's about. For efficiency and other purposes, you want to automate his much of your marketing as possible. And, email is a place where you can use marketing quite effectively.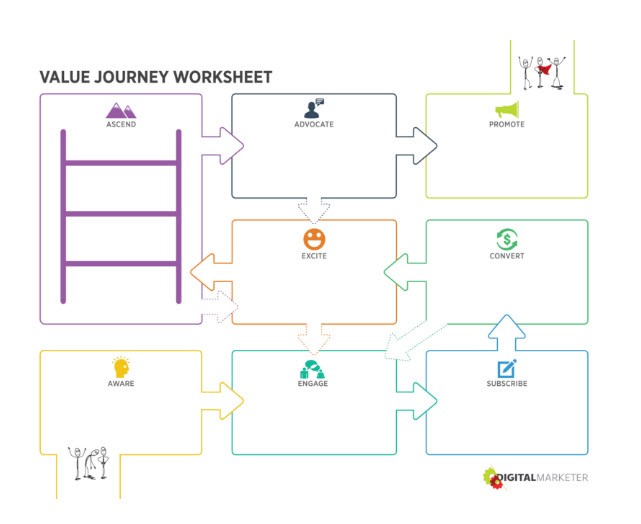 Marketing automation is about the process of using software to communicate intelligently with your customers and prospects. It allows you to message them based on where they are in the Customer Journey (The link to Customer Journey points to an extensive article on DigitalMarketer.com. I have learned so much from the site and refer to its excellent content often.)
The Customer Journey starts with awareness and moves all the way through avid evangelist! When you communicate with people in a way that acknowledges you know where they are regarding their commitment to buying your art and, supporting your career perhaps another way, you make maximum use of your marketing.
We'll talk more about Marketing Automation in a future lesson. It is brought now to address the subject of what type of email service providers to recommend for your use.
Basics versus Advanced
There are many email service providers available. An email service provider is a company that will allow you to collect emails, maintain your subscriber list, use opt-in and web forms, and send out broadcast and targeted campaign emails. It is possible to setup to send email from your own server. However, it is not a good idea.
One of the things that email service providers do is help with email deliverability. They work hard with the companies that check against spam operators to keep their list what's called whitelisted. And that is something that is very difficult to do as a solo or as a solo entrepreneur or small business owner. It's much more cost effective to hire a professional service in the form of an email service provider. If your domain gets marked with a poor reputation by a spam monitoring service, you will lose the ability to get your mail delivered to all your subscribers.
Making Your Choices Easy
Keep things simple, I lump all email service providers in either one of the two categories above. That is, basic or advanced. The difference between basic and advanced is advanced services allow you to segment and tag your customers so that you can keep track of where they are on the Customer Journey. They automate the process to send specific pre-written emails in sequence based on tags and conditions you set.
You don't want to have the same conversation with someone who just joined your mailing list as you do with someone who has been on your list for years and it's bought several pieces and made many referrals among their circles to you. Marketing Automation is baked into the Advanced Services. And, that is what you use to segment subscribers and tag them so that you can control what messages you sent to them and when.
Basic Email Services
Some examples of what I called basic email service providers are MailChimp, Aweber, Constant Contact, GetResponse, MadMimi, and too many others to bother to mention. I have nothing against these companies and have used many of them myself in the past with success.
The problem with using these basic services is they lack marketing automation. Why start with a service that cannot fulfill all your marketing needs? Prices are comparable to companies that bake automation marketing into their services, so that's not an issue.
Advanced Email Services
There are number advanced email service providers. Perhaps even more than I'm aware of. But I can tell you the following are leaders in the field, especially when it comes to working with bloggers and small businesses. They include:
Convertkit - free 30-day trial* (Special offer not available elsewhere)
Mailerlite - first 1,000 subscribers free
Active Campaign
Infusionsoft
Ontraport
Autopilot
New services appear, or come to my attention often. I'm sure some are excellent. It's a matter of time in trying to research new options. Neither Converkit nor Mailerlite are new. That's a good thing and part of the reason I'm confident recommending them will work for you. Please feel free to add your thoughts and suggestions in the comments section below, especially if you have experience with an ESP you want to share.
There are many others, most more complex and built for enterprise size companies. You are, as always, welcome to check out all the companies I mentioned above anymore should you choose to spend your time that way. My recommendation, which I believe will help you the best, and save you time doing tons of research that I've already done, is to use either Convertkit or Mailerlite.*
I could go into extensive comparisons about these two services for you. But, in this case, it's already been done over and over by some brilliant people who have studied this far more in-depth than I have. I do have a current Mailerlite account, and I have used Convertkit in the past and was very satisfied with it. You will find links to many helpful articles comparing these two services in this lesson.
My Story
I use Infusionsoft. The reason I don't recommend it is it is expensive and complicated. And the reason I use it is I started with them on a costly program. Then I decided to move on. However, I got lucky to fall into a window where they were actively doing whatever they could to keep customers and gave me a sweetheart deal that was too good to pass. I like Infusionsoft a lot, it is a complicated program to use in even if it were more affordable I would still not have recommended for most artists. If I were paying full price, I'd be long gone.
Not a MailChimp Fan
Many of you use MailChimp, and I understand why. The lure of 2000 free subscribers and up to 12,000 emails sent per month is appealing. I was a user for many years before I migrated to Infusionsoft.
It did not have marketing automation baked in when the software was created. The company has attempted changes to help its customers tagging and segmenting, but it is clunky. I'm not alone my experience and reaction. It's documentation, ease-of-use, and tutorials are very complicated compared to other services. There are better ways to go than with a free MailChimp account.
If you are already using it, don't feel you have an immediate need to change your email service provider. You can choose to migrate your list to another company when you are ready. I'm not a hater. You'll find a link to MailChimp's Email Marketing Field Guide here and in the resources section.
Marketing Automation Is Necessary in the 21st Century
Mailerlite has marketing automation built in, and it has a free service for up to 1000 subscribers. Plus, it is very inexpensive by comparison to practically all other services when you go past 1000 subscribers and need to start paying a monthly fee for the service. And, if you read some of the reviews, you'll see that it compares favorably to Convertkit. I don't know if it should make any difference or not but, I think it's worth noting that Mailerlite is based in Lithuania. It doesn't have tags but uses lists in a way like tagging. Reviews below indicate good 24/7 support.

If you want to use a U.S. based company and have the money to pay for Convertkit, to begin with, it's a worthy idea. It has a very active user baser. There are a large number of virtual assistants who specialize in using Convertkit. It integrates with learning platforms like Teachable and Thinkiific. This platform you're Using now is built on the teachable platform. So, if you were thinking of doing some online courses to augment your income and wanted to use one of those platforms, then the ease of use with its full integration with Convertkit is another point to consider.
Links to Reviews & Comparisons of Convertkit & Mailerlite

Go through the links below and read at least two or three of the articles to get a full idea of how these two services compared to each other. Some of the links include comparisons to other services such as active campaign and Infusionsoft. Reading those might give you some more insight why I strongly recommend either Convertkit or Mailerlite for most artists.

*This is an affiliate link. Same price for you. I get a small commission should you join.