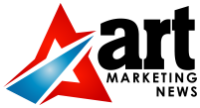 Stop Selling to Strangers
Start Making More Money
Join the How to Find Buyers & Sell More Art Workshop today! The most profitable and reliable distribution system you can create is one where you sell your work to people who know you.
This course is produced and presented by Barney Davey and ArtMarketingNews.com.
Scroll down to check out the FREE Preview Lessons!
With the knowledge and skills you gain in this workshop, you will know how to identify, contact and create connections with your ideal buyer prospects. The tools, tips and techniques you learn are evergreen. That means they never go out of style. You can use them as long as you want to build your business and sell your art.
The less you rely on third parties, such as galleries, dealers, distributors, the more control you have of your career.
Building a list of interested collectors, buyers, fans and followers is your key to success. It's how you maximize your profit. More control, more profit, and less worry is the way to enjoy your career.
You work too hard to make the best art you can to have to rely on unreliable third parties to get it to market for you. Before the internet, e-commerce and social media changed things, you had limited options for selling your work. That's not the case now. You can put you in charge and change the course of your career in the process.
People have never stopped buying art. Finding your ideal buyer is easier than you think.
When you know what to do and where to look you can find your best prospects, often by name. It takes some effort, but so does any form of marketing. By focusing on finding your top potential buyers and patrons and connecting to them, you cut out the distractions, noise and expense of selling to strangers.
It much easier, more efficient and far less expensive to connect and market your art to people who know you. Collectors who buy multiple pieces and refer you to others will fuel your career success!
To sell your art, you need to show it to enough qualified buyers on a regular basis.
Take this course to learn how to find your ideal buyers and make profitable connections with them. You'll also learn the best ways to stay in touch with them. Get started today! You will be glad you did.