I launched a marketing and advertising business in my 20s and sold it to take a position as a senior account executive at a top trade magazine publishing and trade show exhibition company.
We served a variety of small business markets, including:
Artists, Galleries, Publishers & Picture Framing Retailers
Property & Casualty Insurance Agents
Life & Health Insurance Agents
Private Club Management & Operations
Hospitality & Travel
Interior Design & Decorative Accessories
The exposure into how small businesses succeeded in such a wide range of industries was a fantastic learning experience. I use the wisdom and insights I gained to help artists and other small business entrepreneurs create profitable marketing systems.
I am the author of six bestselling books on the business of art:
Straight Advice: How to Market Art Online
Guerrilla Marketing for Artists: How 100 Collectors Can Bulletproof Your Career
How to Sell Art to Interior Designers
The Zen of Selling Art
How to Profit from the Art Print Market
How to Price Digital Fine Art Prints

These books make an impact and have staying power.
Here is a screenshot from the Amazon Kindle "Business of Art" top 100 bestseller list. I can't explain what a thrill it was to see four of the above books in the top 16 on the list at one time.

My articles have been published in Art World News, Art Business News and The Artist's Magazine. My How to Profit from the Art Print Market book was featured in the North Light Book Club. It is the book club for F+W Media, the parent company of The Artist's Magazine. I have been featured in, written for or worked with these industry leading media companies, and more.

Artists Hone Their Art Marketing Skills with My Help.
I have produced and delivered hundreds of live workshops and online webinars for artists on art marketing.
You can get a clear idea of the marketing insights and industry knowledge I share by visiting my Art Marketing News blog. You'll find more than 600 art business and marketing posts. Among art business blogs, it is ranked #1 by Art Business News.
I was honored to be interviewed by Bottom Line Personal in December 2016. Its 750,000 circulation helped boost my bottom line that month.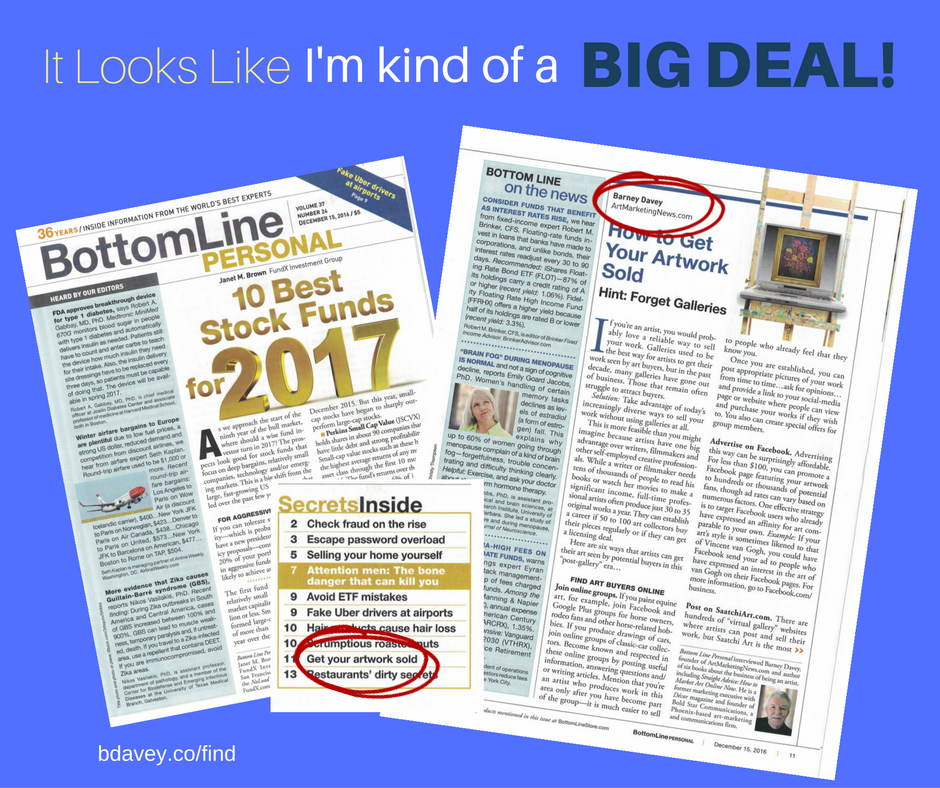 I'm telling you these things because I want you to have confidence and enthusiasm that my advice can help steer you to a better career. I've devoted most of my business activities and all my passion towards helping artists for nearly 30 years. And, I know the work I'm doing to help artists now is the best I've done. It's a happy marriage of passion and productivity. My plans to offer more courses and relevant information for artists are just getting started and getting better all the time.